INTRODUCTION:
The Belgian Shepherd Dog Club of Victoria (Inc.) is one of the three state based Belgian Shepherd Dog Clubs in Australia.  Other Belgian Shepherd Dog Clubs are located in Queensland and New South Wales.
In Australia there is no provision for national dog clubs, the dog world being organized on a state by state basis.  There is provision, however, for the various state clubs to form a National Breed Council.  This has yet to occur for Belgian Shepherd Dogs in Australia.
Click here for the BSDCV Facebook Page!!!
LATEST NEWS:
NEW!!!
Results for the 2022 Championship Specialty Show are HERE!!
Results for the 2019 Championship Specialty Show are HERE!
FOR SALE: $10 each
"Belgian Tervuren" stickers  that have been kindly donated to our club by Dermott Young of Klaar Belgians (Canada)
Only a very limited number are available.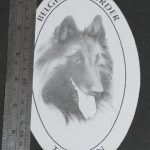 CLUB CALENDAR: